Partagas

Serie P No. 1 Jar 2009 (travel Retail)
availability

Out of Stock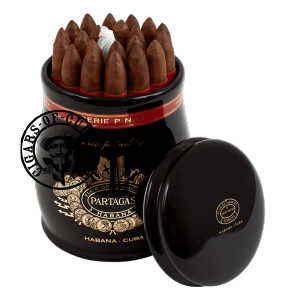 Presentation
Before
Burning
After
The long awaited Partagas Petit Piramide, in an elegant black ceramic jar. A limited production powerful short Piramides loaded with flavours, very rich and strong. 4000 Jars were totally produced definitely a collector's product.

Habano notes:
The Partagas Serie P No 1 jar is already available to the world market for full enjoyment of Habanos lovers. It is an exclusivity dedicated to the prestigious Partagas brand. Of beautiful appearance showing golden letters over black, the Partagas jar conveys the whole spirit of the brand.

This product was launched by Habanos, S.A. at the Tax Free World Exhibition in Cannes, October 2009 and it was awarded by the Duty Free News International Magazine as the Best New product in the Tobacco Category. Without a doubt, an excellent gift to the devotee smokers of the brand in a seductive presentation to satisfy the most demanding tastes.
This elegant jar comprises 25 Petit Piramides, a vitola whose dimensions (Girth 52 and 127 mm long) are considered a trendy size nowadays. This brand stands out for its unique flavour and character, its high quality standards at every stage and a brand image that happily combines tradition, modernity and class thus building up a trend for years to come.
A Partagas is immediately recognisable by its deep, earthy flavour. The character of its blend springs from a selection of tobaccos from the Vuelta Abajo region chosen for their unmistakable richness of flavour and aroma.All the flavour of Partagas locked in this small yet powerful smoke allowing the brand lovers to feel the absolute Partagas taste. The Series Lines from Partagas have become a guide due to the recognition of Serie D No 4 and the well-known pyramid: the Serie P No 2.
Where you want one of these jars to enjoy the cigars or you get one to add to your collection, this Petit Piramides will bring you hours of pleasure.