Montecristo

Replica Antiguo
availability

Out of Stock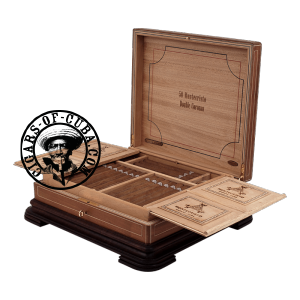 Presentation
This special serie that HABANOS now presents in 2009, is a masterpiece inspired by a humidor made and sold in Cuba in the 20th century. The wooden cases for Habanos are part of a rich Cuban craft tradition that set the standards in the tobacco industry worldwide: the beginning of a culture in the presentation and conservation of cigars.

Montecristo is the best known and probably the most appreciated brand of Habanos throughout the world. It forms the benchmark for many Habanos smokers against which other brands are judged.

Montecristo's perfectly balanced blend is created exclusively with selected leaves from the Vuelta Abajo region, home of the finest tobaccos in the world. Its distinctive medium to full flavour and distinguished aroma appeal equally to both new and experienced smokers.
This 2009 serie is numbered from 1 to 350 and contains 50 Montecristo Double Corona cigars.

These humidors are totally manufactured by hand and made up of cedar and mahogany, by the renowned Cuban goldsmith Ernesto Aguilera who was also the artisan responsible for the Partagás, H. Upmann and Romeo y Julieta replicas that were commercialized by Habanos, S.A. in 2006, 2007 and 2008 respectively. He is the author of some unique masterpieces auctioned at the past editions of the Habanos Festivals as well.
These replicas are available at La Casa del Habano worldwide since the last trimester of the year.