Cohiba

Siglo I
Presentation

Habanos Regular Productions

Vitola

Perlas

Length

102 mm

Ring Gauge

40 Ø

Origin

Cuba
Presentation
Before
Burning
After
This little cigar is a triumph of its genre and in tune with the times. It offers a steady and even burn. The blend is typical Cohiba Siglo line, beany and spicy, but the Siglo I surprisingly also plays with touches of saltiness. This Tres Petit Corona is a relaxing and fresh cigar that enjoys sharing its blend with the smoker. The more experienced aficionado will get more out of the blend, but this cigar can be enjoyed by all.
By it's very composition, this cigar offers a milder smoke, as it contains fewer amounts of the leaves that give strength to a Cuban cigar.
This cigar burns very well. It delivers cedar woody notes with hints of cocoa aroma.
The final is marked by a touch of spiciness. It ends on hot notes due in part to the short size.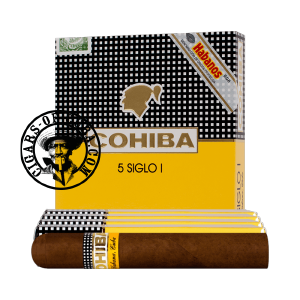 Post a review
Reviews
13/08/2019
Cigar
I am new to cigars and only thing i know is Cuban's are best you can get and the only thing i know about different cigars are from reviews on the cigars. All i hear is cohiba and had to find out what the talk is all about the price is well worth the greatness of this cigar its a dream you want to last then its over 1 box lasted 1 day so i got 3 more
02/04/2019
First kiss
This tiny Beauty is a sweet memory of going out for the first time what's your crush going to a movie eating a bit of popcorn I'm having a few pieces of chocolate and then going in for your first kiss.