H.Upmann

Royal Robusto (cdh)
Presentation

Habanos Regular Productions

Vitola

Edmundo

Length

135 mm

Ring Gauge

52 Ø

Origin

Cuba
Presentation
Before
Burning
After
Part of the Casa del Habano series, the H. Upmann Royal Robusto is available in boxes of 10 with the recognizable second Casa band. The bigger ring gauge suits the aromas of the Upmann blend, allowing for a rich and round smoke. The factory size selected for this special production is the Edmundo (ring gauge 52 x 135 mm in length). Very popular since its release, the Royal Robusto has quickly become one of the more popular Upmann vitoles.
Casa del Habano series with the second band. Boxes of 10.
Very rich from the start, the Royal Robusto takes the H.Upmann blend onto another level. Oily woodiness, combined with a sweet spiciness emerges during the second phase.
The finale is powerful (this may ease with time), but it is the flavors that give the intensity. A very mouthwatering cigar.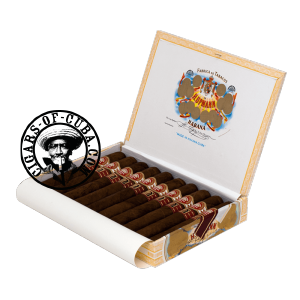 Post a review
Reviews
06/03/2017
H.Upmann Royal Rubusto (cdh)
This cigar has become my new favorite. A Great smoke, smooth and wonderful rich smoke. Perfect ring size to enjoy after a wonderful meal.