Diplomaticos

No.3 - 2001
Vitola

Coronas

Length

142 mm

Ring Gauge

42 Ø

Origin

Cuba
Presentation
Before
Burning
After
The No.3 is perhaps the least popular cigar in the brand, due mainly to its size. The Corona dimensions are less favored today, as smokers look for cigars with bigger diameters for more complex blend development. Do not be put off by this cigar, it is truly great. The vintage batch we currently have in stock are fabulous and smoking at their peak as we speak. Spicy, beany flavors in a mild tobacco give a smoke similar to a cappuccino like sensation.
Rare now, as this cigar was discontinued by Habanos in 2003.
Harsh when young, but mellows with age, exploring flavors of earth and light pepper on a mild tobacco.
Some smoking experience would be best if you are to enjoy this cigar.
availability

Out of Stock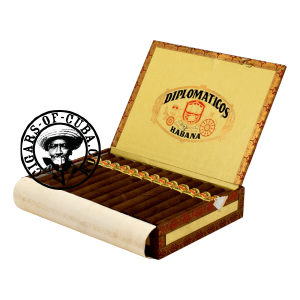 Post a review
Reviews
17/02/2019
Best cigars of my life
Thx for this item i like it and i wait back again to sell...